Pet List
Looking for your lost pet, or has someone's pet found you?

Submit your lost or found animal to the KCWD/KOOL96.1 Pet Patrol.

Please provide a complete description of the animal. Please include any distinguishing features which may help identify the pet, along with a contact phone number. Pet Patrol submissions will be featured on-air as well as on the station websites (KCWD and KNWA).
---
SAM
missing dog in between wittsprings and tilly he looks like a short haired Norwegian lundehund he has a dark tail with a white tip his name is Sam please call or text me with any info 8707549070
---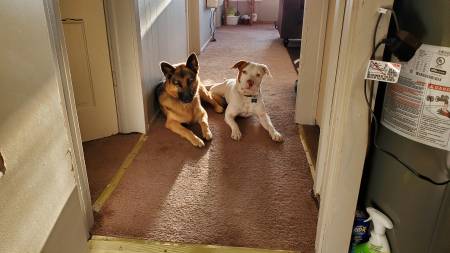 Samson
I'm missing my 1 yr old male Pit.He is white with a tan colored right ear and a pink and brown nose. He went missing in the Valley Springs area.Please call Tammy, 479-644-0854 if you find him.
---
Found Dog
Found Dog Black lab with white stripe on chest about a year old, no collar, found in Gaither Mountain area 870-577-4923
---
RIGGS
BLACK LAB WEARING BLUE COLLAR LAST SEEN ON MILL HOLLOW ROAD IN HARRISON VERY FRIENDLY 417-527-5667
---